Where we go for INFO!
We have included some links, both favorite and useful, to CFA, the CFA Gulf Shore Region website, Persian and Himalayan Breeders pages.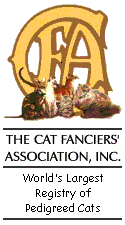 Cat Fanciers' Association (CFA)
CFA Persian Breed
CFA Himalayan Breed
CFA Breeds
CFA Shows
CFA Show Schedule
CFA Pointed Color Chart
CFA CPC Color Chart
Feline Rescue

FANC -E-MEWS AN e-magazine for pet owners with articles about health and care, breeds, and much more great information.